Browse Our Catalog
Customer Service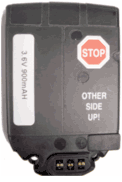 Motorola Spirit GT Battery Plus Batteries HNN9720 HNN9720A HNN9720B HNN9720C

Motorola Spirit GT Battery for Motorola Spirit GT Plus radios. HNN9720 HNN9720A HNN9720B HNN9720C Part Number



Motorola Spirit GT Battery Plus Batteries HNN9720 HNN9720A HNN9720B HNN9720C

Motorola Spirit GT Battery for Motorola Spirit GT Plus radios. HNN9720 HNN9720A HNN9720B HNN9720C Part Number



Motorola NTN9150A Spirit Gt Battery Charger

Motorola NTN9150 A Motorola NTN9150 Spirit GT and Plus Battery Charger

Quickly restore power to your two-way radio. Simply plug into your radio and charge your NiMH battery in 3 hours (with radio turned off). LED light on the charger indicates charge status. Charges battery with or without radio attached. Compatible with Spirit GT, Spirit GT+, Talkabout TA280 SLK and Talkabout T289 two-way radios.



Motorola Spirit GT radio parts

Motorola Spirit GT radios are a fantastic Motorola Spirit Radio that has 1 watt and 1 channel with a flat ground no obstructions range of up to 4 miles. In steel concrete buildings the range is up to 200,000 Sq. Ft. and in multi level buildings up to 15 floors!

This motorola walkie talkie has 8 programmable frequencies with 38 interference eliminator codes and built-in VOX with audio feedback (hands-free capability) It has a time out timer and includes a NiMH battery and a plug-in charger.


---
---

Have questions? Call us Toll Free 1-888-560-5600


WirelessPro Incorporated Copyright. All rights reserved. Motorola is a registered trademark of Motorola.








Motorola Spirit GT Battery Plus Batteries HNN9720 HNN9720A HNN9720B HNN9720C
Featured Specials


Motorola MS350R Radios
Retail: $329.95

Sale Price $249.95




Motorola T5500 Accessories Two Way
$89.95


Motorola T5000R TalkAbout Two Black Motorola Talkabout Radios
$59.95


Motorola Walkie Talkies
$59.95